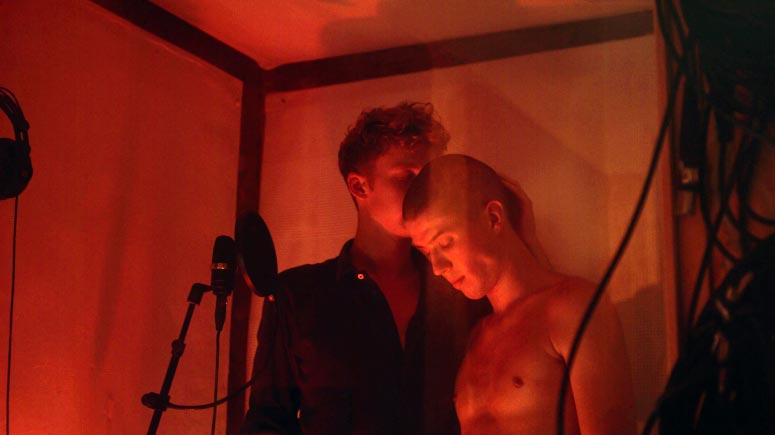 Billede galleri / Picture gallery
På scenen på Roskilde Festival står Frederik og David og spiller deres største koncert nogensinde. Flere hundrede mennesker hopper til musikken og løfter en sky af støv. Sammen er de bandet Fraads. Og drengene står midt i deres ungdom og muligvis deres musikalske gennembrud. SE MIG NÅR DU SOVER kradser hul ind til drengenes kaotiske og kreative univers, hvor der er plads til at eksperimentere i livet og i musikken. Serien følger dem gennem sommerens eufori og vinterens mørke og vi hvirvles ind i ungdommens afgrund af ensomhed, søvnløshed og fordybelse.
On stage at Roskilde Festival, Frederik and David are playing their biggest concert ever. Hundreds of people are jumping up and down while the dust clouds rise over their heads. The boys call themselves Fraads and are on the verge of adulthood and their musical breakthrough. WATCH ME WHEN YOU SLEEP offers a peek into the boys' chaotic and creative universe where they are contently experimenting in their lives as well as in their music. We follow them through the euphoria of summer, the darkness of winter and the sleepless nights of their youth.
Title
Se mig når du sover
Watch me when you sleep
Lenght
7 x ca. 15 minutter
Production year
2019
Co-Starring
Fraads
Director
Mads Salbæk & Tessa Hoder
Producer
Malene Flindt Pedersen
Editor / Editors
Mads Michael Olsen
Photographer
Mads Salbæk
Music
Fraads af Frederik Espersen og David E. Simonsen, Sony Music Denmark
In collaboration with
DFI og SEIN