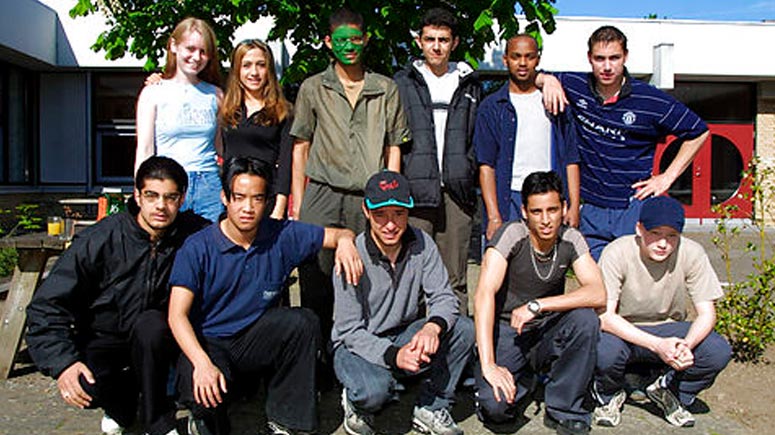 Billede galleri / Picture gallery
Det almene boligbyggeri Vollmose i Odense beskrives ofte som en ghetto med bandekriminalitet og utilpassede indvandrerdrenge. Men det er sjældent, at vi får lov at lære disse drenge at kende. Gennem et år følger dokumentaren to unge palæstinensere, Amer og Mohammed, fra Humlehaveskolen i Vollsmose og deres inspektør Olav. Olav tror på kærlighed og tilgivelse snarere end hævn og straf og vi følger hans og drengenes kamp. Deres sejre og nederlag. Forbrydelser og forelskelser. Og lærer de personer at kende, som medier og politikere tegner skræmmebilleder af på daglig basis.
In the late 90's, media reports on gang crimes taught the Danes that Vollsmose, a suburb of the city of Odense, was a ghetto with unsurmountable problems. Especially among young men of Arabian descent. But who are these young boys? Over the course of one year, the film follows two young Palestinians, Amer and Mohammed, pupils at a local school in Vollsmose, and their principal, Olav. Olav believes in love and forgiveness more than in revenge and punishment. We follow his and the boys' struggle, their victories, their losses, their crimes and their love affairs. Here, we get to know the people that politicians and media endlessly portray as the black sheep of society.
Title
Drengene fra Vollsmose
The Boys from Vollsmose
Lenght
3 x 40 min. / 90 min.
Production year
2001
Director
Anders Riis-Hansen & Jørgen Flindt Pedersen
Producer
Malene Flindt Pedersen
Editor / Editors
Niels Pagh Andersen & Kasper Leick
Photographer
Jørgen Flindt Pedersen, Anders Riis-Hansen, Lars Schou & Erik Skibsted
Music
Kåre Bjerkø
In collaboration with
Det Danske Filminstitut / TV2 Danmark