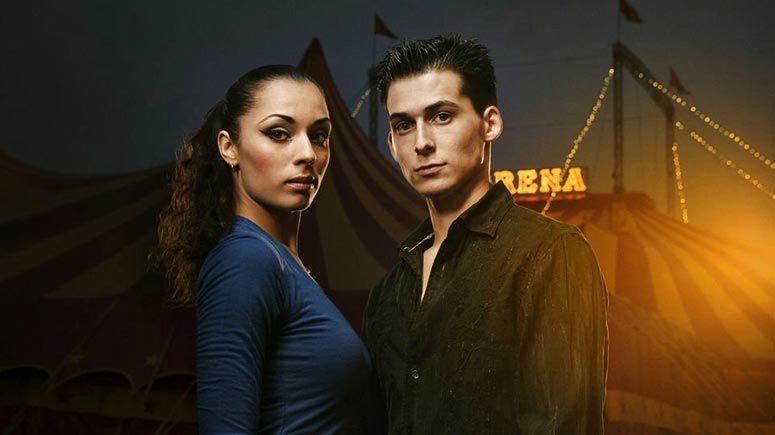 Billede galleri / Picture gallery
Cirkusprinsessen Merrylu Casselly er blevet kæreste med kronprinsen af Cirkus Arena, Patrick Berdino. Ligesom planlagt. Siden de var små har det været forældrenes drøm de to skulle finde sammen, og føre Nordens største cirkusdynasti videre. Men drømmen er truet. For det er svært at leve op til cirkusverdenens forventninger, når man lige er fyldt 20 år. Kan det unge kærestepar og deres familier klare interne konflikter og samtidig tilpasse sig i en verden, hvor de gamle traditioner og normer i cirkus dynastiet virker forældede?
The circus princess Merrylu Casselly and her boyfriend, the crown prince of Circus Arena, Patrick Berdino, are deeply in love. Just as planned. Ever since they were kids, their parents have hoped for them to become a couple and keep the legacy of the greatest circus dynasty in the North alive. So, when the couple move into their own caravan and create a double act, it seems that everything is going according to plan. But mixing business and pleasure is never quite as simple as it seems. Can the young lovers and their families overcome personal quarrels while facing a world where old traditions and norms in the circus dynasty seem antiquated?
Title
Cirkusdynastiet
The Circus Dynasty
Lenght
90 min. / 60 min. / 2 x 40 min
Production year
2014
Director
Anders Riis-Hansen
Producer
Malene Flindt Pedersen
Editor / Editors
Lars Therkelsen
Photographer
Anders Riis-Hansen, Lars Skree, Anders Löftstedt
Music
Jonas Colstrup
In collaboration with
Det Danske Filminstitut / TV2 Danmark